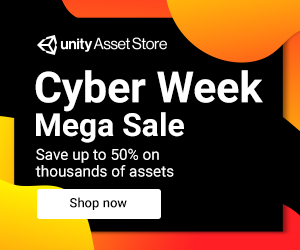 Nostalgia 2: 2D Tile Map Editor will also be 50% off
at "Cyber Week Mega Sale" at the Unity Asset Store.
Sale overview
Period:from Monday 12/02/2019 00:00:00 PST through Friday 12/13/2019 23:59:59 PST
Price : $20 -> $10 (50% off)
(The price shown excludes tax)
Bonus coupon
A bonus coupon has been issued from the Unity Asset Store.
Use this coupon to get an additional 10% off (total 55% off).
Coupon Code: CW2019AFF10
Applicable object: Limited to 1 time per person, available to everyone
Target assets: Cyber Week MEGA Sale target assets only
Valid period: From 12/09/2019 00:00:00 PST to 12/13/2019 23:59:59 PST
discount:
50% off Target asset 55% off
40% off Target asset 44% off